Unmatched Frame Design
Established in 1999, Finer Frames is a national award-winning frame shop with the largest selection of moulding in Southern Idaho. We offer unmatched innovative frame design, museum framing, installation, and art preservation services. Along side Finer Frames, the Gallery is a fine art gallery specializing in artistic diversity, with  local, regional, national, and international artists working in nearly every genre and medium. We have worked diligently over the decades to continually represent the most talented, passionate, and committed artists, producing works that are both culturally and historically significant.
Why Choose Us
Champions of customer service, Finer Frames introduced a revolutionary new concept in custom framing: 100% Guarantee you'll love your frame. An immediate hit, our signature frames designed by artists soon became legendary. If you are unhappy with the frame or color selection, return it within 10 days and we will replace it for free. And if you choose a more expensive frame, just pay the difference.
Most award-winning frame shop in Idaho. Finer Frames is the official framer for the Idaho Steelheads, Boise Hawks, Warhawk Air Museum and has received recognition as Larson Juhl's DESIGN STAR: Framing Edition Grand Champion 2013, Small Business of the Year 2002, Top 100 Art & Framing Retailers Award by Decor Magazine, Footsteps Award for Marketing, Idaho Woman of the Year 2004 Nominee, and Woman of the Year 2005 by the Meridian Chamber of Commerce.
Larson-Juhl Design Star Grand Champion Winner!
Participating as one of the 12 best framers nominated from across the country, Finer Frames has been named the overall "Best Custom Frame Designer" of 2013 for our 4-corner black and white frame design at the Design Star competition sponsored by Larson-Juhl.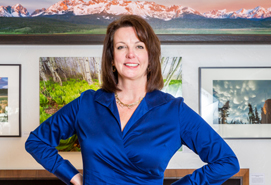 About Meg Glasgow, Owner
Meg Glasgow is a nationally recognized consultant in the art and framing field, and winner of Larson Juhl's first Design Star competition. She travels widely in the U.S., presenting sales and marketing seminars for small businesses, and has published several articles and books, including "Meg on Marketing, A Self-Help Guide for Small Business Success."