We are often asked if we can repair damaged frames. Crack, chips, splits, missing pieces, broken glass are typical for the kinds of frame repair we do. But when a gentleman brought in this frame, I knew immediately it was something very special.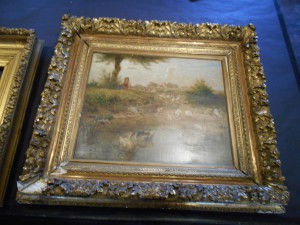 He told me of the story of the frame taking a fatal near fatal fall off the wall. It was no surprise after inspecting the rickety wire on the back. He had recently purchased the Francois Millet painting at auction for a very pretty penny and apparently a penny is all that was spent on the crummy wire. I mean look at that… I've never seen a worse wire job!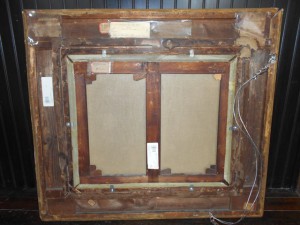 The failure of the wire caused the million dollar painting and antique gilt frame crashing to the tile floor. Yikes!
I'm used to seeing frames like this is museums… but not in my shop. The Louis XIII style frame dates back to the late 1800's. The frame is made of pine wood with cast plaster ornaments in a running leaf and flower design. The 23K oil and water gilt gold had been covered with bronze powder overpaint in several places and the gold leaf was heavily worn.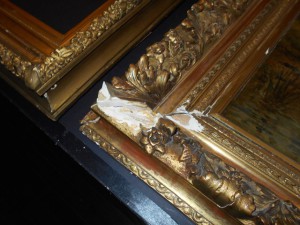 Good news though, the client had carefully gather up several of the missing gesso pieces that had been scattered across the tile floor. The collection of broken pieces was now in a small cardboard box destined to be returned to their proper place on this valuable frame. Time to call in reinforcements – the experts in frame restoration of the museum kind.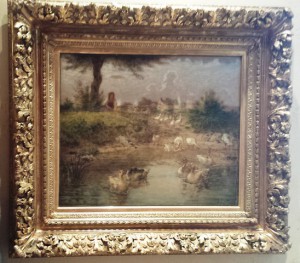 With help from our friends at Gold Leaf Restoration in Portland, the frame was thoroughly cleaned and the bronze power paint removed. The split corners were rejoined and all of the missing corner ornaments were replaced. The entire pain-staking process took little over a month to complete.
Thanks to our partner Nancy Thorn and the team at Gold Leaf Restoration this beautiful work of art is safely back on the wall.