All paintings from this show have been sold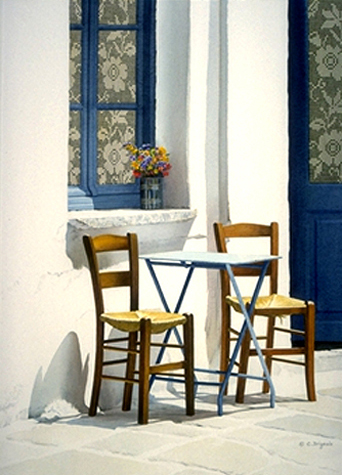 Born in France in 1946, Evelyne Brigeois is an internationally acclaimed watercolor artist. Having grown up in a small town east of Paris, Evelyne was particularly drawn to places which seem to have preserved their timeless and peaceful aspect. Crisp precision, strong definition of light and shadow, and beautiful composition distinguish her images of the Greek Islands, Venice and France. She was a frequent participant of Boise's Art in the Park, and more recently, Art and Roses.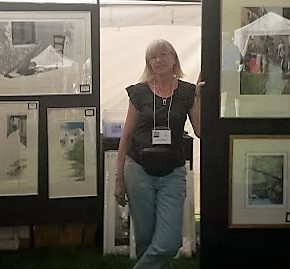 A long-time Boise resident, Evelyne worked in the U.S. for almost 40 years. She had been accepted into both events for the current years and greatly looked forward to her return to Boise, but it was not to be. Her health had declined steadily in the past several years due to cancer. She sought treatment both locally and in France, ultimately succumbing to antibiotic-resistant illnesses. Evelyne passed away on May 5, 2016 while seeking treatment in France.
Evelyne has received many national awards, from the Louisiana Watercolor Society, the Detroit Institute of Arts, Michigan Watercolor Society, the National Watercolor Society, and many more. Evelyne's last wish was that her work be shared with the world – distributed posthumously between galleries in the U.S. and France.
Join us Thursday, July 28th for our opening of Evelyne Brigeois | Small Glories of Greece a half-off Collector's Sale on all Evelyne Brigeois paintings. The exhibition continues through August. For information on purchasing a painting, please contact Gallery@finerframes.com.
EVELYNE BRIGEOIS | Small Glories of Greece
Last Thursday Reception
July 28, 2016
5:00pm – 9:00pm