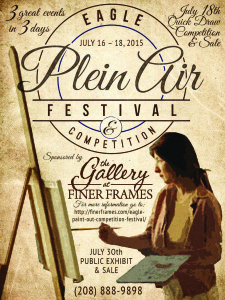 The Eagle Paint Out Plein Air Competition & Festival will run from July 16 – 18, 2015 and will be held in historic Eagle, Idaho.  Plein air painters produce art from life (as opposed to in the studio). The Eagle Paint Out is a plein air painting competition, exhibit and sale that is open to anyone who wishes to participate. The event will feature talented artists who will paint the beauty of the Eagle area and the Boise River. The event will bring in art lovers and collectors to the area.  An exhibition and sale will be held on the final day of the event at the Eagle Saturday Market in Heritage Park.
Artists can register here by July 10
3 Great Events in 3 Days!
2 day plein air painting competition in the Eagle area, exhibition & sale; $30 registration fee; Cash prizes & ribbons to be awarded
Quick Draw painting competition for registered artists; Free with registration; Ribbons to be awarded
Community Paint Out | 2hr event where all artists are welcome; Free & open to all artists; Ribbons to be awarded
For more information, CLICK HERE