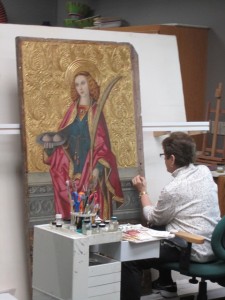 Art preservation is an art in itself. Recently I had the privilege of spending time with the conservators at the Art Institute of Chicago. Sequestered in a private wing of the world famous museum, they work behind strict security in high-tech laboratories that resemble more NASA lab than art gallery.  They gave me a peek into their methodical, precise and patient commitment to preserve the world's most significant artworks. Their dedication goes well beyond the normal responsibilities of a 9 to 5, for professional conservators it's a steadfast devotion to restore priceless works of art to their original glory.
Their painstaking work begins with close examination of the art, and by close I mean with a high powered microscope and series of infrared x rays. Chemical testing is done on paint composition and canvas fibers. Scientists test samples to determine the chemical composition. Paints are faithfully recreated to match what the artist would have used.
Whether a work of art is of great monetary value, historic significance, or sentimental value, it is worthy of consideration in preserving for the future. Proper framing is the best way to protect the art from the dangers of light, humidity and other environmental hazards. However improper framing techniques remain art's most dangerous enemy.
Professional framers have two primary responsibilities; construct an attractive, well-built frame to enhance the art and protect the art against light, the environment and the effects of time. Our framers will gladly discuss mounting options and suggest appropriate archival materials, stressing long term safety and preservation of the work while considering striving to achieve the highest aesthetic. We begin with one of the largest frame selections available, enabling us to accommodate all tastes and budgets. We also restore antique frames and build new frames to the customer's specifications.
Finer Frames staff is pleased to assist clients in the preparation and presentation of their fine art.  We offer the highest quality materials and custom frame options, museum quality archival matting, UV-filtering glazing and a large selection of frames including contemporary hardwoods, aluminum, and traditional carved guilded frames and period reproductions.  Our staff can provide assistance in pro-actively preventing collection degradation through inspection, assistance with proper storage, encapsulation, frame design and construction.
Finer Frames is pleased to offer free telephone and email consultations on your preservation questions, as well as free consultations by appointment at the gallery.  Please contact us if you would be interested in obtaining more information about any of the preservation services.