ACRYLIC PAINTING For Beginners
Tuesdays 6:00pm – 8:30pm | Dates Listed Below
Join teaching artist Suzanne Chetwood in a fun, relaxed atmosphere while you learn the basics of acrylic painting. Designed for beginners, all supplies are included for $35 fee. Registration opening soon with Eagle Parks & Recreation.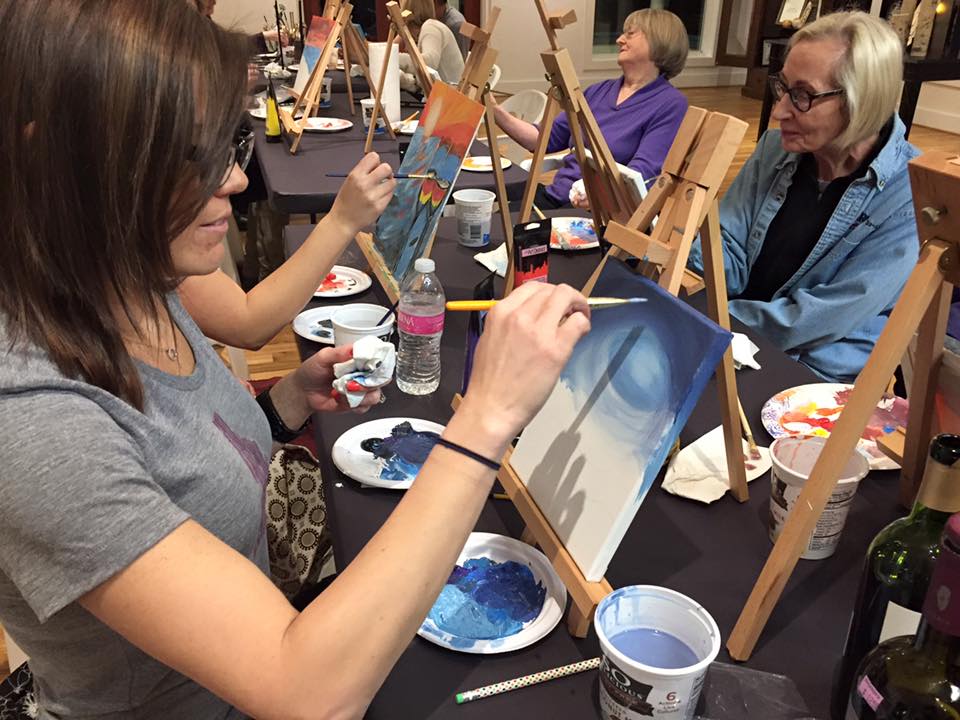 September 13 – Endless Summer Seascape ($35)
Enjoy a night of whimsy and fun creating a wave scene using the art element of color. We will address mixing the primary colors to create any desired color and practice putting complimentary and/or analogous colors together to create a work of art. Materials included.
September 27 – Date Night, Aspen Trees ($60/couple)
Painting together, couples (or friends) will work on one painting simultaneously. All students will work on the same image of aspen trees with your personal initials carved into the tree. Paintings will be on a slightly larger work surface than the individual lessons and be a great lesson in sharing space and supplies as well as creating an image that is unique to you as a couple. You will take your shared artwork home and must work out the custody of your art on your own terms! We will have a blast! Bring your sense of humor and refreshments, if you wish. All supplies will be provided upon arrival.
October 11 – Night Sky ($35)
Chiaroscuro (Italian for light-dark) in art is the use of strong contrast between light and dark, usually bold contrasts affecting a whole composition. It is also a technical term used by artists and art historians for the use of contrasts of light to achieve a sense of volume in modelling three-dimensional objects and figures. We will create a moon using chiaroscuro and use the element of light and dark to create the drama of a night skyline. Materials included.
October 25 – Mountain Sunset ($35)
An element of art space refers to distances or areas around, between or within components of a piece. Sometimes space isn't actually within a piece, but the illusion of it is. We will use the art element of space to create a beautiful mountain sunset painting. Materials included.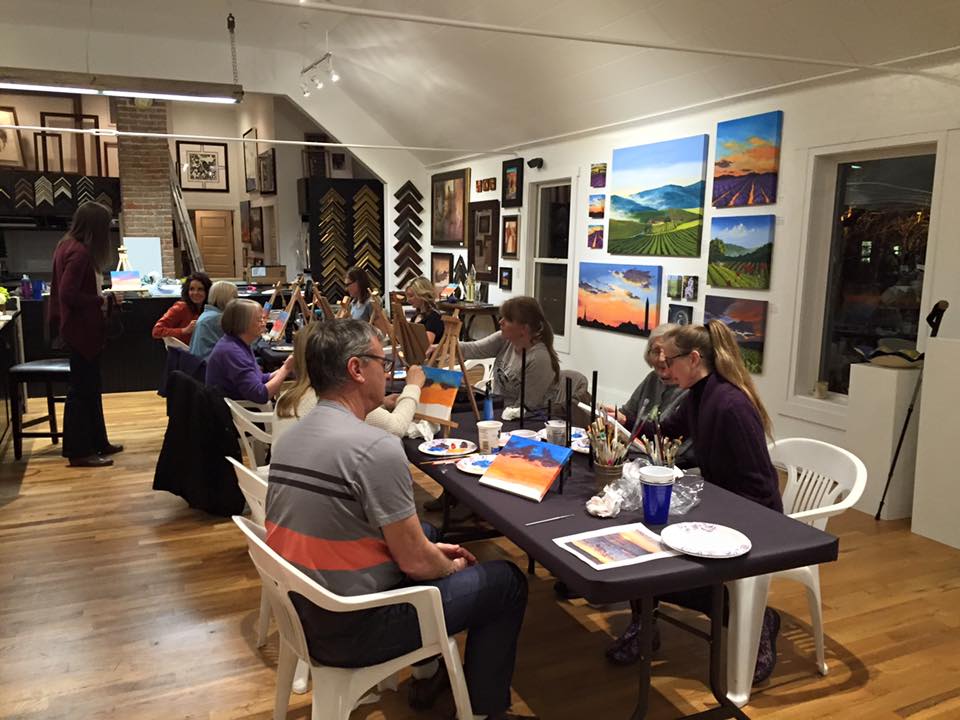 OIL PAINTING For Beginner to Intermediate
Saturdays 9:00am – 11:00am | Oct & Nov
Taught by painter Chi E Shenam Westin, this series will focus on landscape painting, both in studio and plein air. You will learn the fundamentals of mixing color and using the right color notes. We will work on creating landscape composition, color and value and brush work to make a painting that is beautiful and compelling. Beginners welcome. Teens & Adults. Sign up for the entire series, or pick and chose your preferred dates. $30/class. Register at Finer Frames. (No class Nov 12)
Click here for SUPPLY LIST Chi E Shenam Westin Oil Painting Class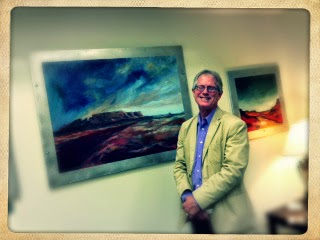 WATERCOLOR with PEN & INK
Thursday, November 3 | 6:00pm – 9:00pm
Join award winning artist and instructor Linda Aman for this exciting watercolor workshop.  Learn the creative use of pen and ink with watercolor.  Linda teaches in a step-by-step instruction with lots of individual attention. Learn numerous tricks and techniques of watercolor.  All watercolor materials are available for use in class and you may bring your own as well. Beginners welcome. $45 includes all materials. For Teens & Adults.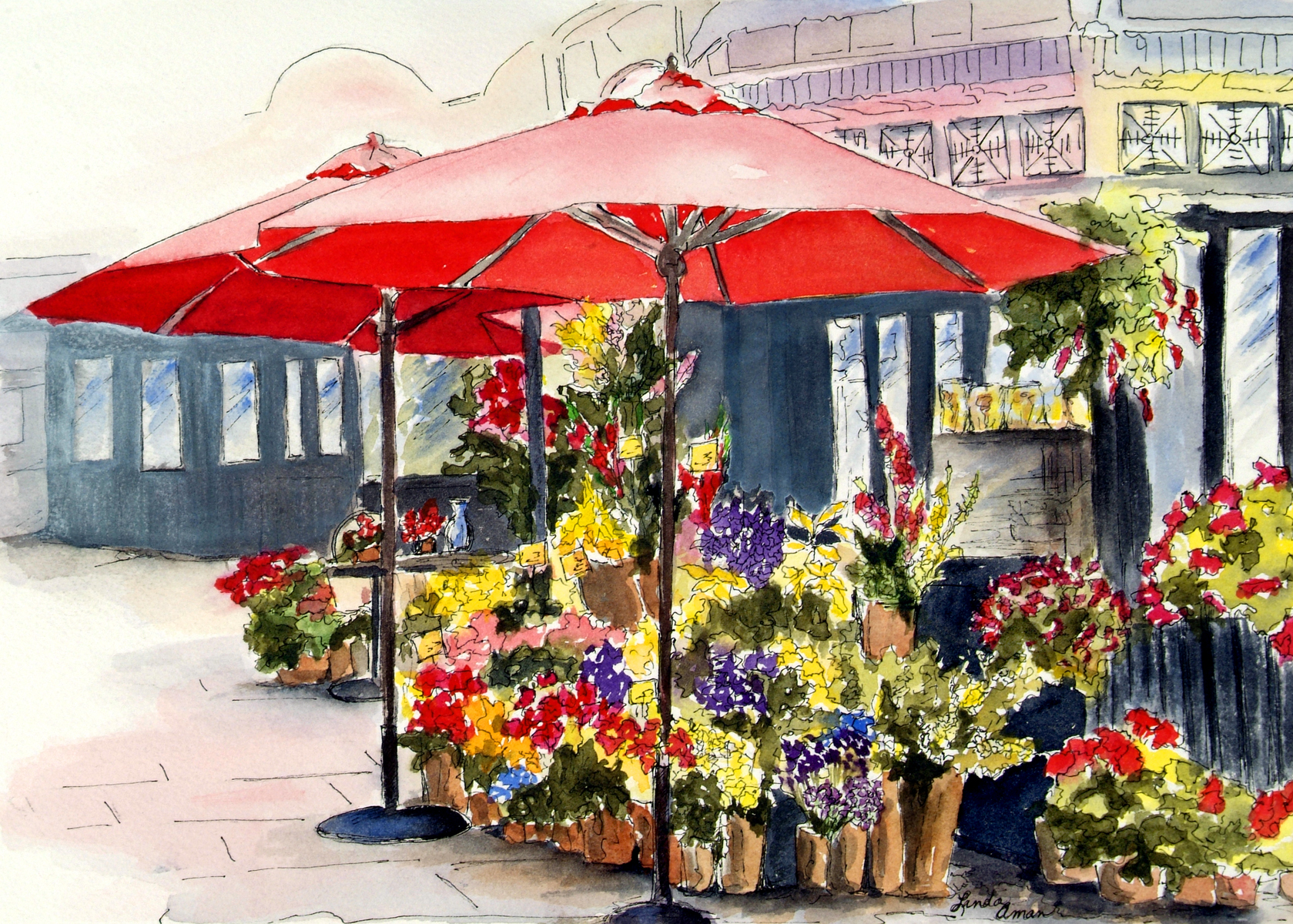 LEARN TO MAKE A FELT SCARF
Saturday November 12 | 10:00am – 1:00pm
This a perfect class for Beginners who want to learn the felting process.   Using a lightweight silk fiber and wool, students will learn to make a one-of-a-kind scarf.  The transformation of these natural fibers is magical.  You will need to stand for long periods in this class, so wear comfortable shoes and clothes you can get wet. Once you learn the simple techniques in making felted crafts you won't be able to stop!
Please bring 2 old towels & 2 old panty hose legs. $145 Register with Eagle Parks & Recreation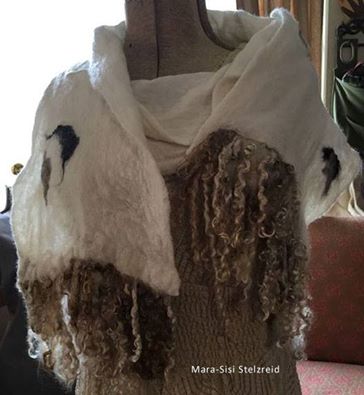 For additional information, please contact gallery@finerframes.com or call Meg at 888-9898